Draped Tables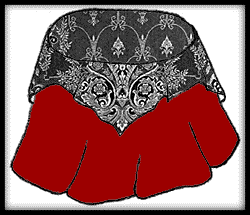 If you have a nightstand or end table that's tired and dull, you can cover up the whole thing and never have to look at it's ugly finish again. Take a very large piece of fabric (sheets, curtains, and tablecloths are perfect), and drape it over the small table. The fabric should be larger than the table. This means you will have lots of fabric to puddle on the ground and give a luxurious look. Tuck the fabric edges underneath themselves and puff the fabric out a little bit. Now take a smaller piece of fabric (scarves and odd remnants are great), and drape this over the center of the table. It's a fancy decorator look, and it's beautifully gothic when done in dark colors and rich fabrics.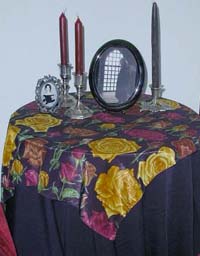 This cover-up also works with large cardboard boxes -- they can become cheap, attractive tables that are still useful, if not super sturdy (and handy if you've still got moving boxes you'll never unpack!).
Pictured Here: A cheap, round, particle-board decorator table (Target, K-Mart, and Wal-Mart all have these for less than $5) covered with a black sheet and a scarf, accessorized with candles and framed photos.