Slipcovering Furniture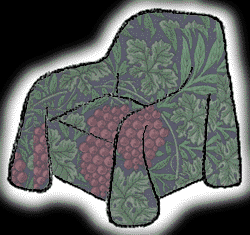 Basic slipcovers are very easy to make. Just throw a large piece of fabric over the furniture, tuck in at the sides, and you're done. Sheets, blankets, and bedspreads work well for this (white sheets give an 'unused attic' ambience). Or get several lengths of fabric and sew them together to make one larger piece. You can get fancy and sew trim such as tassels or braid or lace around the edges of the fabric. Safety pins can help hold throw slipcovers in place, as can small strips of foam tucked in between cushions.
If you want something a little more fitted, most commercial pattern companies have a few slipcover patterns. These slipcovers are usually semi-fitted with velcro or ties and are not too difficult to make. They are often very similar to the semi-fitted slipcovers sold by Target, Surefit by Mail, and other stores. Sewing slipcovers yourself can be cheaper, depending on the type of fabric you buy. Plus, you can get exactly the look your want (even if it might cost more to slipcover in velvet than in twill). I've used the following patterns myself:
Butterick 6031: Couch, chair, and ottoman slipcovers made by smoothing fabric over the furniture and tucking into a gathered skirt at the furniture's bottom edge. Also has fitted covers for seat cushions. This is a very soft, feminine look that works well in mid-weight cottons. The gathered skirt might be too bulky if made in velvet or tapestry.
McCall's 777: Couch, chair, and ottoman slipcovers made by draping fabric over the furniture and fitting it mostly at the furniture's arms. Uses ties at the arms to secure the slipcover and does not have fitted covers for seat cushions. This is a sleek, tailored look that works well in mid-weight cottons on up to heavy fabrics like velvet or tapestry.
McCall's 8036: Chair slipcovers made by draping fabric over the furniture with some fitting. This one pattern has options for many common types of chair such as folding, ladder-back, windsor, and dinette arm chairs. The pattern has a variety of looks -- from soft and pretty to trim and tailored -- that would work well in many types of fabrics.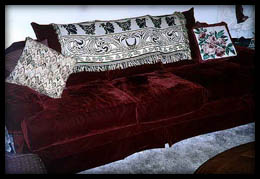 For a very fitted look, a pattern will not do, since every piece of furniture is very different. Sunset Publishing has a very helpful book titled Slipcovers and Bedspreads that gives step-by-step instructions for a fitted slipcover that looks almost like you re-upholstered your furniture (but it's much easier and less expensive!). The bedspreads instructions are also good. Details about this book are in the Resources section.
Pictured Here: My large couch with detachable seat and back cushions, completely slipcovered in burgundy velveteen, plus a gargoyle-print blanket on the back of the couch and tapestry and cross-stitched throw pillows at the sides. I used the Sunset book as a guide for a more tailored cover.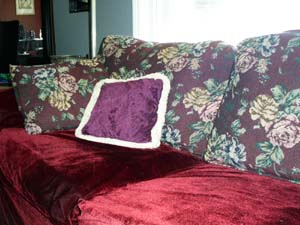 Slipcover Redux: Every couch is shaped a little differently, so it's difficult to make a fitted slipcover fit a new couch. But not impossible!
I received a newer (but still hand-me-down) couch that was in an unappealing floral print. The old burgundy velveteen slipcover base just barely fit the newer couch, and so did the bottom cushion covers. But the back cushions were a totally different shape, not to mention different number. The old covers wouldn't work there.
So I made new slipcovers for the back cushions out of a coordinating burgundy tapestry fabric. I also covered the two throw pillows that came with the couch in the same tapestry. Ta-da! New couch.