Winter Garlands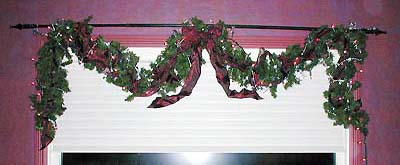 burgundy satin wired ribbon, burgundy chiffon ribbon, silver star wire garland, and purple tree lights in an artificial pine garland
Materials:
9" long artificial pine garland
3 or more 12" long lengths of wide wired ribbon
1 metallic wire garland (could use stars or Halloween shapes)
tiny tree lights (optional)
Lay the swag shaped garland out on the floor or a large table. Start by bending the garland into a series of three deep swags. If you want to wrap garland around a pole or banister, do not make swags.
If you want to include tiny tree lights in your garland, do so now. First measure off enough cord so the lights can be plugged in wherever the garland will hang. Then twist the lights around the length of the garland. Bend small pine branches around the light strand at intervals to hold them securely.
Take one length of ribbon and twine it around the garland. For maximum view of the ribbon, don't twist it behind the garland. Instead, twist small pine branches around the ribbon to hold the ribbon in place. Repeat with the next ribbon and the wire garland. Wrap each one carefully so one ribbon doesn't entirely hide the other.
Leave one length of ribbon to tie into a bow. Secure the bow to the top point of the center garland by twisting pine branches around it.
Hang the garland from the top points of each swag.